Answers to Questions on Carbon Brushes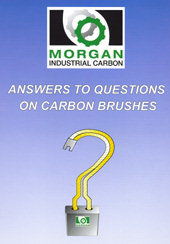 Morgan Industrial Carbon can assist in the training and practical application and uses of carbon brushes.

Answers to questions on Carbon Brushes has been developed in house, providing easy to understand explanations for most commons queries relating to carbon brushes.

Sections covered include:
Introduction to brushes and carbon grades
Brush design, manufacture and application
Brush theory and characteristics
Brush holder design, maintenance and adjustments
Brush maintenance and machine care
Some common operating problems
Have you ever asked or been asked by engineers or apprentices
What causes brushes to wear and dust excessively?
What atmospheric contaminants affect brushes?
Can brush holders be changed to a different type?
Then "Answers to questions on carbon brushes" is an invaluable training tool you need in your technical library.

Only available from Morgan Industrial Carbon...